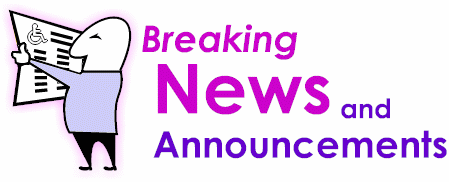 Read about the latest developments in assistive technology and stay informed of newly introduced products and services, research breakthroughs, and community initiatives that are helping people with disabilities, senior citizens, and students with special needs.

Check out our selection of news headlines, press releases and information sources on various AT and disability-related topics. You can also search for stories with our self-help story finder.


Press Releases and Announcements
News Stories


AT Network Journal
Monthly news by the AT Network with short stories and announcements about the world of assistive technology for persons with disabilities.


Assistive Technology Articles
Selection of articles on assistive technology and rehabilitation engineering that appeared in professional magazines. Source: FindArticles


iCan!
One-stop resource for news, stories and discussions on various disability-related topics.


Half The Planet
Disability-related news stories, discussion forum, and links to products and services.


Yahoo's Full Coverage on Disabilities
Links to disability-related articles from city newspapers and major news services like Reuters.


News Headlines